This year's  Gencon Game Convention held August 5th through 8th in Indianapolis, Indiana, was another smashing success with hundreds of new recruits to Dragonsbard Eventide and XDM, the release of our 'Quest for the Tavern' adventure module and visits with celebrities!
Felicia Day, star of 'Dr. Horrible's Sing-a-long Blog' and her web series sensation 'The Guild' made a special effort to visit our XDM booth. She regretted not having been able to make our Killer Breakfast and was delighted to find time in her extremely busy schedule to make her way over to our booth for a visit. After a few moments of mutual geeking out (we appear to be fans of each others work) we presented her with her own copy of XDM: Xtreme Dungeon Mastery which will now personally grace either her library or the back of her storage closet depending on how things go. One thing is certain: Felicia is one of the warmest, genuine and most charming individuals I think I have ever met anywhere.
Of course, not everything at the convention is all fun and games … well, OK, mostly it IS fun and games since it is primarily a game convention but NOT for us hard working XDM Ultimate Grand Masters! Much of it was about explaining just what is an XDM to game players from around the world who would stop and stare at our booth in wonderment.
Thursday was the first day of the convention and was largely occupied with time in our top secret XDM booth which was located on the main aisle and directly across form the Wizards of the Coast booth (thus making us the easiest of the top secret booths to locate). There we had available for the first time the incredible 'Quest for the Tavern' adventure module which will soon be available to you for ordering online from our XDM store. We were also giving away Dragonsbard Eventide Bookmarks and signing up new subscribers in the booth through our 'Where's Laura?' special discount program. Howard Tayler spent his time 'defacing' everyone's book and module by drawing a custom character in the back of each on a page left blank especially for the purpose. That evening, Laura and I celebrated in our favorite way … dinner with R. A. Salvatore and his wonderful wife, Diane.
Friday was time to get right down to business with the enthusiastic committing of commerce in our secret booth all morning and a writing seminar as well as the recording of a podcast in the afternoon for DragonHearth. I also managed to take the gathered early subscribers from Dragonsbard Eventide to lunch that day … and it was a delight to relax, talk over the story and get to know each other.
Friday night Laura and I made an appearance at IUPUI (that's Indiana University – Purdue University Indiana) in Indianapolis where we did a short Killer Dinner and presentation … then tried to get some rest before the big final day at the con!
Saturday brought the premiere XDM event: Killer Breakfast! With a sold-out house of 860 tickets, Howard Tayler on the art board and Laura Hickman hosting the show — we were prepared for a very special Killer Breakfast. This year's theme was a cross between a December Holiday celebration and a PBS pledge drive. We called it, 'It's a Wonderful Gaming Carol.'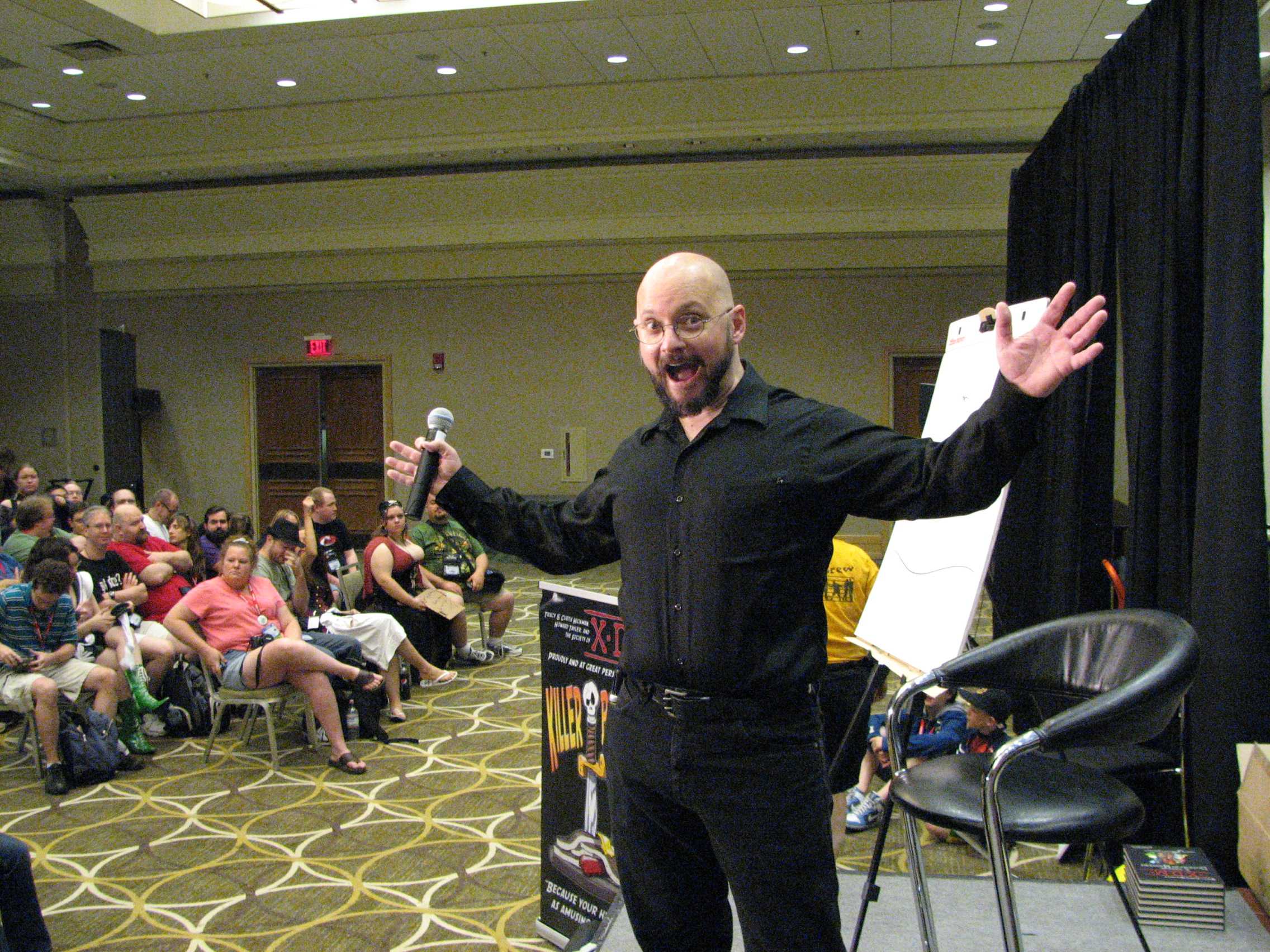 There were many great moments during the show but perhaps my favorite was when (by secret and special pre-arrangement with the XDM masters) a young XDM's girlfriend's character was killed and he leaped up from the table, asking that I kill HIM instead of his girlfriend. proposed marriage to his girlfriend right in the middle of the game. I called them both out in front of the table to consider this act of selfless sacrifice in the middle of Killer Breakfast. I asked the young woman why I should kill her instead of her boyfriend. She said something about suing me. I then turned to her boyfriend and asked why I should kill him instead of her. (This being his cue) he said because I love her and want to marry her!
At which point, as you can see, he knelt down on stage, pulled out the open box with the ring in it and asked her on the spot.
Careful study of the photo will reveal that she has, just moments later, already gripped the box and is responding in the affirmative.
Now, I cannot say that XDM is responsible for gamers actually being able to not only date but actually MARRY beautiful women … but I think that there is evidence here to support that theory.
We finished the day with our XDM seminar where we even showed some secret materials from our XPC: Xtreme Player's Codex — to secret to share here just yet! All in all … it was a wonderful convention and we are already planning next year's improvements to make it even better!